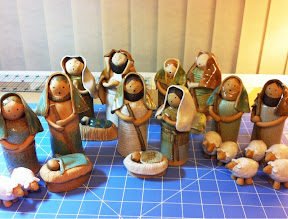 In my frantic search of the garage, where I was hoping to find an electric frying pan or something to melt wax in (for another project)- I came across a box with these Christmas nativity sets in it. The funny thing is, I lost this box after a craft show about 5 years ago. It's weird to see things you did in the past.
I still love the little sheep. Maybe this year I'll try to make a whole scene. That'll be a heck of a project.
Well, at least I have a few things to list tomorrow. I'll even keep the old prices, I think. After five years in a box, I bet these little Mary and Josephs are eager to be out in the world!